Design Trends for 2022
Due to these unprecedented times, millions of people have had their careers and family lives upended and are earnestly seeking a nourishing place to retreat to and to feel safe and revitalized in while we regain our equilibrium. In other words, what many of us are seeking is transformation, so this course will discuss how to create transformational spaces within one's home that will comfort and inspire you and make you love your home all over again – in fact, you may never want to leave!
To begin, consider incorporating some of these fresh new Design Trends for 2022: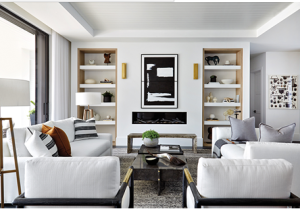 Give your Family room fireplace surround and flanking bookcases a fresh new look. Incorporate dramatic artwork, add wall sconces for mood lighting, and remove all molding from around your bookcases. Strip them down to their core so they look unfettered and uncluttered. The large picture window (or sliding doors) lets in lots of natural light, a continuing major trend for 2022.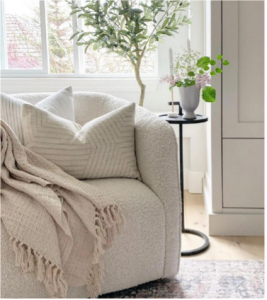 Create a cozy corner to curl up and relax in – just for you! Select an oversized upholstered chair with nubby textured fabric, soft rounded edges, and add a lush throw. Place it near a window with lots of light and add a small table for a book or plant. Add an ottoman and then you'll be all set for a snooze.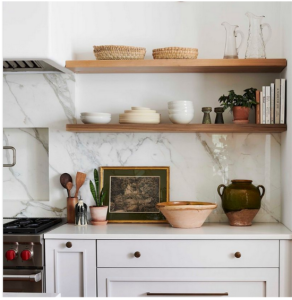 Lighten up your kitchen with airy natural wood shelves next to your cooktop hood instead of upper wall cabinets. Think about painting your base cabinets next to your cooktop or range white if they aren't already (this will highlight your range and make it look impressive) and replace backsplash tile with porcelain solid surfacing for a fresh new look. This porcelain surfacing looks like marble but is far more resilient and since it comes in large sheets, is free of tile grout lines.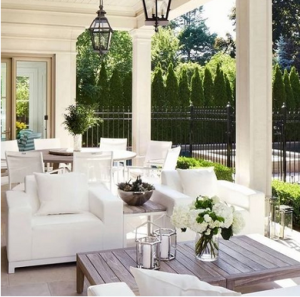 Create an intimate outdoor room for casual family living and dining with comfortable lounge chairs in kid and pet-friendly fabric. Add lanterns, candles, and fresh flowers for ambiance. This outdoor spot is perfect for working from home while sequestering from the pandemic. Enclose this area in glass or make it a screened-in porch and you'll have another (quiet) room year-round!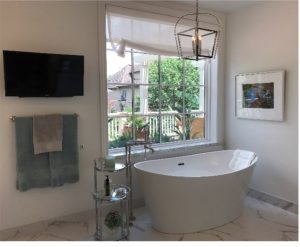 Create a spa-like atmosphere in your master bath with an air masseuse spa tub. Add a rolling cart for bath essentials, a pivoting arm TV for easy viewing and most importantly, a large-scale picture window at eye level so you can look out on the garden while bathing. A remote-controlled solar screen drops down over the window for privacy when desired.